GUEST POST: Hawaiian Sweet Plantain Cornbread Cake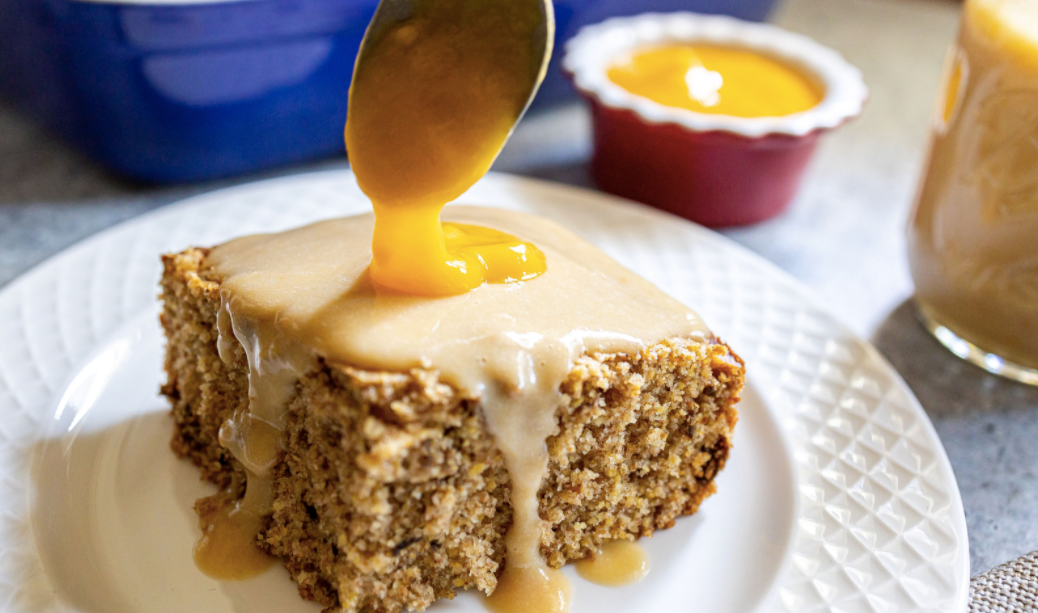 **POST BY AMAZI AMBASSADORS CARISSA AND JOHN**
Every week during the Covid-19 event we've been looking for fun and clever ways to use items from our pantry and/or fridge. And to make it more interesting we've added a fun competition—based off one of our favorite Food Network cooking shows called Chopped—that we've dubbed the "The Chopped Pantry Challenge." Essentially one of us chooses four ingredients that the other has to incorporate into one cohesive meal. 
This past week we turned to our Facebook and Instagram followers for inspiration and presented to them four ingredients: amäzi plantain chips, cornmeal, vegan milk and mangos.
We received multiple entries, and after whittling it down to our top two choices we put them up for a vote by our followers. The winning dish was a Sweet Plantain Cornbread Cake with a Mango Soy crème Anglaise.
So, to honor our winner, we decided to actually make their creation come to life and try it out and I've gotta say we were really impressed with the results. The plantain cornbread had a great cakey mouthfeel; great flavor from the combination of corn and plantains; and wasn't too sweet. I'd dare say it was even semi-healthy thanks to the addition of a generous portion of whole wheat flour. The mango crème Anglaise really put it over the top, and gave it an extra dimension of sweetness without making your teeth hurt. All together it was definitely a dessert we could be proud of.      
Hawaiian Sweet Plantain Cornbread Cake
1 c cornmeal

1 c all-purpose flour

2 c whole wheat flour

1 c sugar

2 T baking powder

1 t salt

2 t cinnamon

⅔ c coconut oil, melted

2 T honey (optional)

1 T vanilla

3 flax "eggs"

1 can coconut milk

1 cup oat milk 

1 bag of amäzi plantain chips, soaked and chopped
Preheat the oven to 350 degrees and grease a 9x13 inch baking dish.

In a large mixing bowl, stir the dry ingredients. Mix the wet ingredients in a smaller bowl except for the plantains. Add the wet ingredients to the dry and stir just to moisten. Gently fold in the plantains.

Pour the batter into the baking dish and bake for roughly 40 minutes. Every oven bakes differently. You'll know it's done when the top is brown and shows cracks.

The cake is delicious on its own but you can also serve it with the following Mango Non-Dairy Crème Anglaise.
Mango Non-Dairy Crème Anglaise
1 c mango puree

2 T cornstarch

2 eggs

2 c non-dairy milk (oat, almond, soy, etc.)

1 T vanilla

2 T maple syrup
To make mango puree, simply put ripe mango into a food processor until smooth.

In a mixing bowl, add mango puree, 1 T cornstarch and eggs. Beat until light and slightly aerated. This will take a couple of minutes.

Add the milk, vanilla and maple syrup to a small saucepan and heat on medium until the milk becomes 180 degrees. If you don't have a thermometer, heat it right before reaching boiling point. Remove from the heat.

Slowly pour the hot milk over the egg mixture and mix for a few seconds.

Pour the mixture back into the saucepan and let it cook on medium. Add 1 T cornstarch which has been mixed with a small amount of water and add to the mixture.

Stir continuously with a wooden spoon. You will know it's ready when the anglaise is thick and coats the back of the spoon. Remove from the heat and whisk a bit to keep it smooth. You can serve it warm or cold.