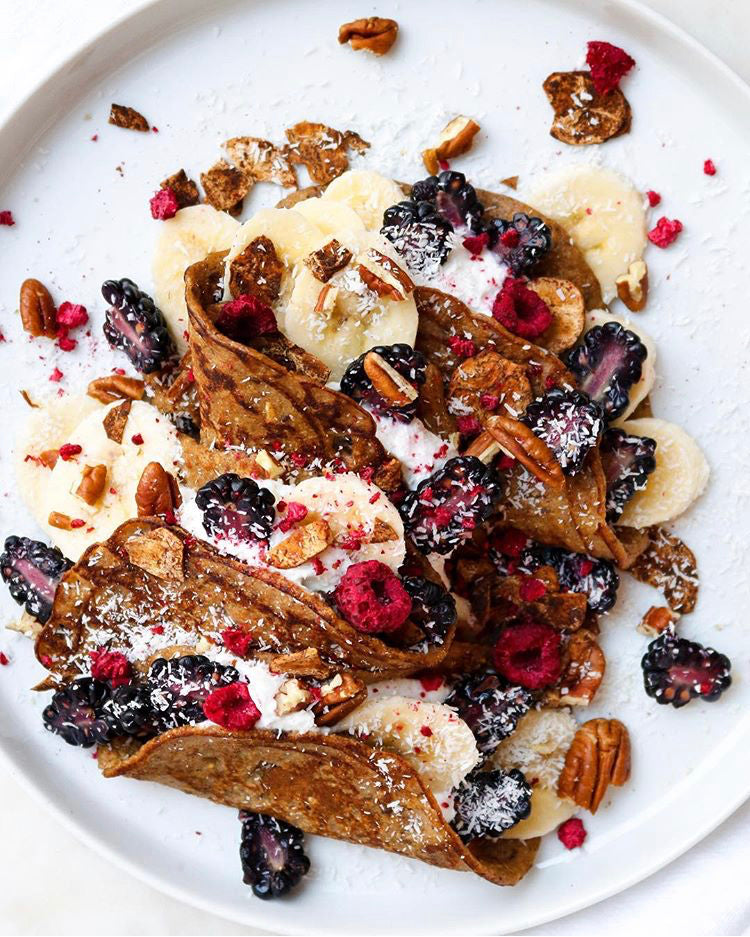 When your breakfast is so beautiful, you can't bring yourself to eat it...👏👏👏⁠  That being said, you're going to want to try this recipe out AND give it a taste, because these crepes will not disappoint! Shoutout to @spinachdaddy for the sweet recipe and the amazing food presentation. 
Challenge: Get your crepes to look as pretty as @spinachdaddy
P.S. Time is running out to stock up on Cinnamon and Cocoa plantain chips!! Pick up some bags while they're still on clearance and try this recipe out!!!

Ingredients:
Your choice of Straw Propeller oat cup (I used cinnamon raisin) 

1/4 cup of Amäzi plantain chips of choice (I used cinnamon for this combo)

1 egg

1/2 cup of milk of choice (nut, oat, cow)

Oil for pan

Toppings like yogurt, coconut cream, additional Amäzi, nuts, maple, etc.
Directions:
In a high powered blender or food processor, blend you oat cup and 1/4 cup of chosen Amäzi flavor till a flour consistency has formed. Add in your egg, milk, and salt.

Blend until a runny batter has formed- it should be frothy and not thick like a typical pancake batter.

Heat a 10-inch skillet over medium heat.

Spray skillet liberally between each crepe with coconut or preferred oil

Use a 1/4 cup measuring scoop for each crepe- as if you were making a pancake but allow the batter to completely spread across the pan into a thin layer to make the crepes

Cook each side till the edges become golden brown and begin to curl up. Flip and cook ok the other. Around 20~30 seconds each side

Top with yogurt, whipped coconut cream, fruit, more Amäzi- anything you'd like! 

Photograph a job well done!

Eat up!